High Pressure Misting Systems
and Custom Water Features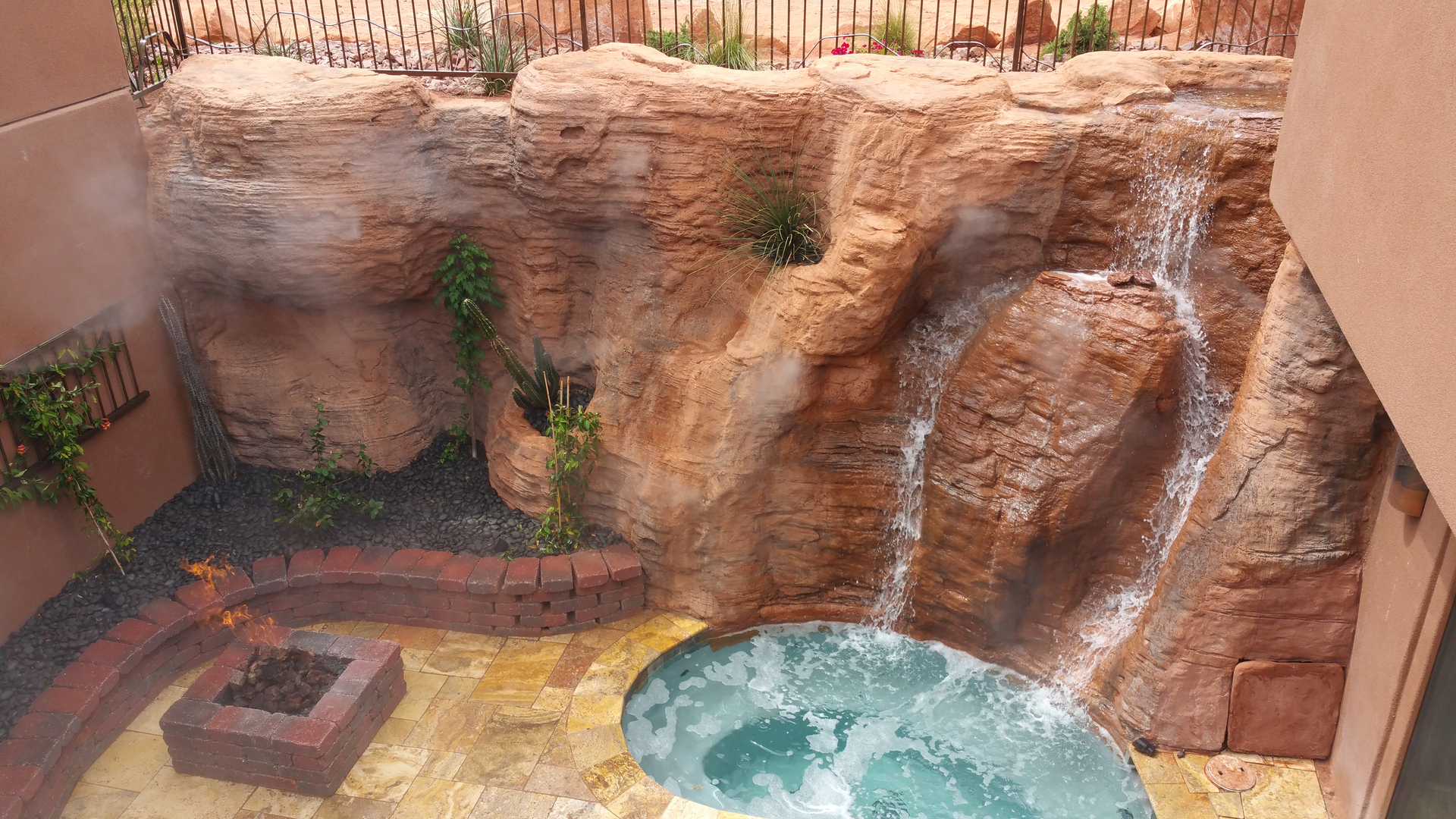 SERVICES
High Pressure Misting
We install high pressure misting systems complete with dual filtration scale inhibitors and rust-free stainless steel anti drip nozzles. We can easily accommodate garden spaces, patios, awnings, pergolas, horse stables and any other conceivable outdoor application be it residential or commercial. We also have an ever expanding line of freestanding mist sculptures and pottery. Misting also reduces nuisance insects, dust and other airborne particulates. We offer a 3 year guarantee for all our misting services as well with a free estimate.
Waterfeatures
With 7 years of experience in water feature construction we confidently offer design, construction and maintenance of ecosystem ponds, pondless waterfalls and numerous decorative fountain applications. We can also improve the quality of existing features with simple maintenance and troubleshooting, addition of mechanical or biological filtration or complete rebuilds. Wetland filtration is an eco friendly option for improving the water quality of retention ponds without the use of toxic chemical that pollute the environment.
Rainwater Management
Water is quickly becoming an "endangered species" on our blue planet. Urban growth around the St.George, Utah area increases storm water runoff, which in turn harms our natural waterways. All life requires water for survival. Becoming aware of the current state of our local surrounding area environmental condition is the first step in identifying viable solutions to ensure clean and healthy water for future generations to come. Doing your small part may not make a big difference, but if we all did our part?

Pondless Waterfalls Can Be Used To Circulate Your Rainwater Basin

Are you interested in installing a water feature in your St.George, Utah yard, but concerned about the safety and liabilities of having a pond? Or are you apprehensive about taking on the responsibility of maintaining a full-fledged ecosystem?

Did You Know

One inch of rainfall on a 2,000 square foot residential roof generates 1,250 gallons of water that can be reused.

That same roof in a region receiving 30 inches of annual rainfall generates 41,000 gallons of reusable water.

The average U.S. household with a 10,000 square foot lot uses up to 3,000 gallons of water weekly for landscape irrigation.

Running a sprinkler for 2 hours can use up to 500 gallons of water.

Seventy percent of water used at home is used outdoors.

66,175 gallons of water are used outdoors per household, per year.
Schedule Appointment
For a design consultation and estimate...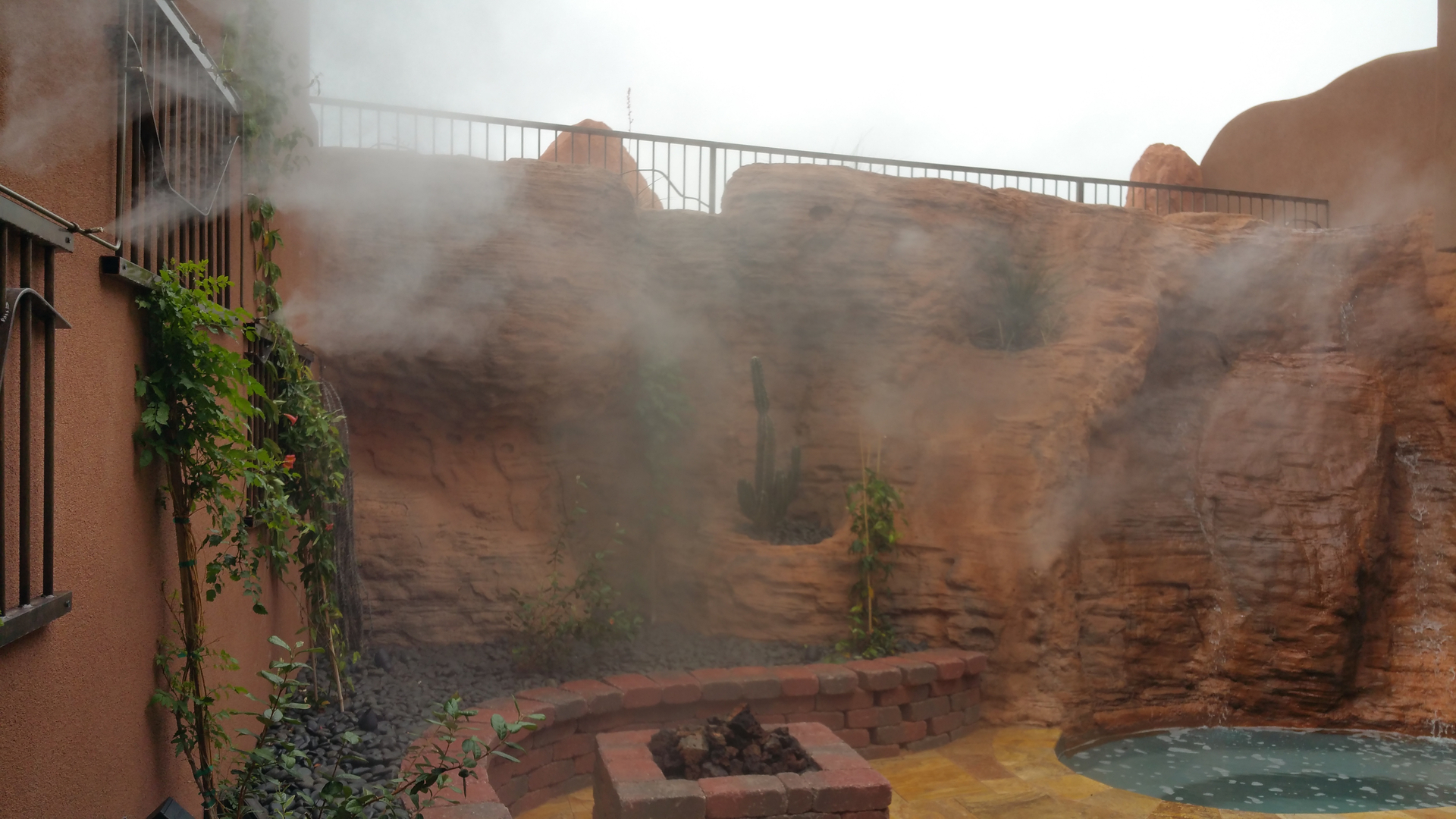 Our Promise
We'll only work with the best materials available and provide a 3 year guarantee on all labor. We never compromise quality for time and give our clients realistic schedules that accommodate their lives. We strive for honest customer service, so contracts are only paid in full when the finished work is to your complete satisfaction.
About us
A successful general contractor for 15 years, Joe Bolinder started Desert Mist in 2014 after moving to southern Utah and experiencing the extreme weather conditions. He envisioned a means of providing creative solutions for beating the heat and enjoying the scenic outdoors year round.